Crisisenterys
Szczegóły
Autor

Joseph Andro Artanto

Rozmiar

XL (144x144)

Poziom trudności

Normalny

Język

Angielski

Woda

Kontynenty

Fabuła

Tak

Warunki wygranej

pokonanie wszystkich wrogów

Warunki przegranej

strata bohatera

Graczy ludzcy

1

Gracze komputerowi

5

Wyświetlono szczegóły

1187 razy

Pobrano

1115 razy

Średnia ocena

0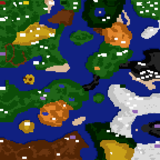 Pobierz
CRISISENTERYS (UPDATED)
Because a lot of e-mail, problem and critics about this map, so I create an updated map for
Crisisenterys. However, this map now filled some new and mysterious events (I make it to connect
this map to 2nd and 3rd Crisisenterys).
This map is about an adventure. A soldier in a small kingdom is the chosen one to save the world
from the evil Wiegraff.
Map Name : Crisisenterys
Map Maker : Joseph Andro Artanto
E-mail address : arsin@indosat.net.id
Map Type : Single Player, 1 human only.
Language : English
Description : You must save the world from the evil Wiegraff and his alliance after you finished your long quest!
Special Win : none
Special lose : lose the main hero "Vincent"
Special other : none
Map testers : Jonathan Kairupan at jeffrey_k@bi.go.id

Introduction
"This introduction I make to connect this Crisisenterys to Crisisenterys 2 & 3. This intro is
just to make you know what happen before you play it! (especially in Crisisenterys 2, I planning
to use many mysterious event by this intro."
Long ago, people in earth were live in peace, until they make a tower to reach the god,
The Babel Tower. The god mad and destroy the tower, several tribes and humans run to the sky by
the top of Babel Tower, and create the Cloud City. However, the god is tired and resting in the
deep of the earth...But the god places replaced by the devil and control the world, they are
kill and hurt people in earth...until one man, beat them! but before destroyed, the devil make
that man power gone and rest in his body, his memory is gone and the devil is still control the
world. the man name is...Vincent.
The Story
You live as a soldier in a small kingdom, live in peace, until one day. The son of devil,Wiegraff
come to conquer all the world and get all the resources including the earth energy, the planet
starting colapsing and many meteors fall from the space. Since you the chosen one, you travelled
over the world and finding a great events, rebellion, magics, the lost kingdom, or even undead
armies!
First, you must save your neighbour kingdom, Yekoly kingdom from undead armies, then defeat a
magician who want to defeat you, then go to desert kingdom, enter the competition and get into
dimension door, you will transfered to your neighbour city, in there, you will fight with water
elemental, who conquered the village well. You find an outpost of Wiegraff kingdom, defeat them
and go to twin city.
You hear the Legends of the ring and undead war, since the ring need a book, you will trough a
lot of challenge until you get out of there. then you will teleported to a rebellion base, or
a lava island, or land of god. after and after you will find the Wiegraff kingdom, defeat his
slave and you will arive at Wiegraff castle, Senterys, defeat his two son and Wiegraff...
Secrets
In this game, there are a lot of secret and tricks, example, Crisis castle, the opposite of
senterys castle, the pirates base, land of god, the lost kingdom Gren, a very lot of gold mine,
and all of Ultimate artifacts can be collected!
Well...Just try it out! Im sure you will be fun with it!
If you have played this map and find anything wrong, please e-mail me at arsin@indosat.net.id
*Im making Crisisenterys 2 now! its named "Legend of Eden", just wait for it!
Author,
Joseph Andro Artanto
e-mail : arsin@link.net.id or arsin@indosat.net.id
Jakarta, Indonesian.
Komentarze
Zarejestruj się i zaloguj, aby dodać komentarz. To potrwa tylko chwilę.