Cat Fight
Szczegóły
Autor

Greg Schneider

Rozmiar

L (108x108)

Poziom trudności

Trudny

Język

Angielski

Woda

Brak/nieznacząca

Fabuła

Tak

Warunki wygranej

pokonanie wszystkich wrogów

Warunki przegranej

utrata wszystkich bohaterów i zamków

Graczy ludzcy

1

Gracze komputerowi

4

Wyświetlono szczegóły

1246 razy

Pobrano

1434 razy

Średnia ocena

0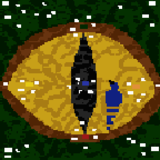 Pobierz
Creator: Greg Schneider GregSco@msn.com
Name: Cat Fight
Size: L
Difficulty: Tough (and it is)
Opponents: 5 (1 human, 4 computer) - single-player map
About: This is a 5-way Sorceress fight, thus the map
name. :) You start out surrounded and
badly overpowered. As usual, feel free to
respond by email with your opinion of the map,
or if you have questions about it.
Komentarze
Zarejestruj się i zaloguj, aby dodać komentarz. To potrwa tylko chwilę.