Capitan
Szczegóły
Autor

Robert Lakatos

Rozmiar

M (72x72)

Poziom trudności

Normalny

Język

Angielski

Woda

Wyspy

Fabuła

Nie

Warunki wygranej

pokonanie wszystkich wrogów

Warunki przegranej

utrata wszystkich bohaterów i zamków

Graczy ludzcy

4

Gracze komputerowi

0

Wyświetlono szczegóły

1162 razy

Pobrano

1343 razy

Średnia ocena

0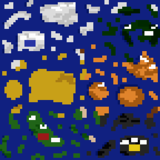 Pobierz
Map Name: Captain (filename: captain.mp2)
Map Maker: Robert Lakatos (e-mail address: locksmith@suonline.net)
Map Type: Multiplayer (4/4)
Difficulty: Normal
Size of map: Medium (111.3 k)
Description: The four spellcasters are now exploring the sea and
the islands. Lots of resources, lots of exploration,
lots of adventures.

Special Win: None
Special Loss: None
Special Other: -

Completely
Play-Tested: Yes!
Komentarze
Zarejestruj się i zaloguj, aby dodać komentarz. To potrwa tylko chwilę.