The Life of Hobbit
Szczegóły
Autor

Thunder

Rozmiar

Mała (37x37)

Poziom trudności

Zaawansowany

Język

Angielski

Podziemia

Nie

Woda

Brak/nieznacząca

Fabuła

Tak

Warunki wygranej

Pokonanie określonego bohatera.

Warunki przegranej

Utrata armii.

Graczy ludzcy

1

Gracze komputerowi

0

Wyświetlono szczegóły

1017 razy

Pobrano

1100 razy

Średnia ocena

2.0000000000000000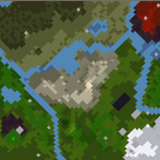 Pobierz
"Description: I am Hobbit. Halbo Hobbit. I've been living in Pleasantville all my life. I've spent all my money to luxuries. Now that I am homeless, I'm looking for a roof over my head. Now that I am poor, I'm looking to become rich. Despite my dislike for adventure, venture I must. There is no gold to be found in Pleasantville. The whole world waits with it riches.
Notes for Players: The game asks whether you want to view hintbook or not at the beginning of scenario. Unless you have stuck, don't view it. "
Komentarze
Zarejestruj się i zaloguj, aby dodać komentarz. To potrwa tylko chwilę.